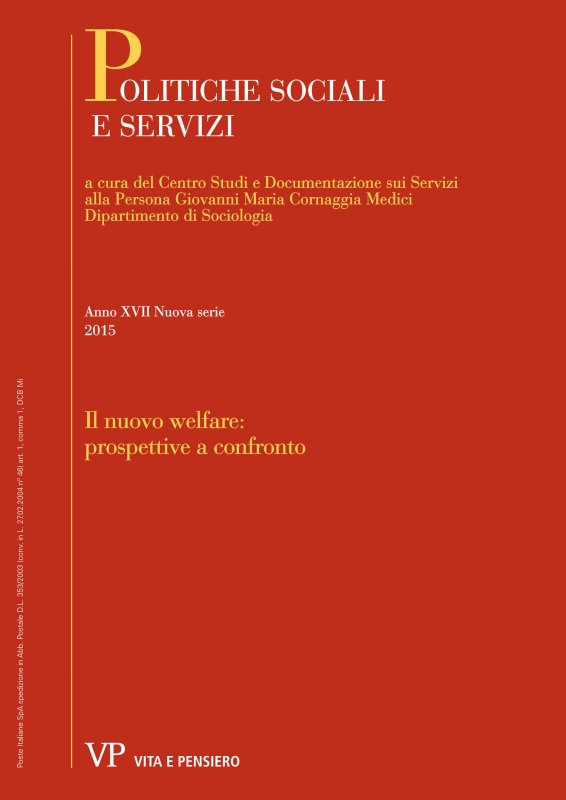 POLITICHE SOCIALI E SERVIZI
Rivista a cadenza annuale. Nuova serie
A cura del Centro Studi e Documentazione sui Servizi alla Persona Giovanni Maria Cornaggia Medici. Dipartimento di Sociologia. Nuova serie
Prende l'avvio la nuova serie di «Politiche sociali e servizi», che affronta una fase di rinnovamento, pur mantenendo inalterata la sua mission di affrontare, attraverso contributi teorici e di ricerca, l'analisi dei mutamenti del welfare, delle nuove prospettive delle politiche sociali, dei cambiamenti nei servizi sociali e sanitari, nel terzo settore, nell'associazionismo prosociale, nelle professioni del sociale.
La novità riguarda anzitutto la scelta di uscire con un solo fascicolo all'anno, che avrà carattere prevalentemente monografico. Sarà rafforzato il legame con il Centro Documentazione sui Servizi alla Persona 'Cornaggia Medici', attivo all'interno del Dipartimento di Sociologia dell'Università Cattolica: in particolare, il numero monografico verterà sul tema di ricerca scelto di anno in anno e sviluppato dai ricercatori del Centro. Inoltre, la rivista valuterà le proposte di pubblicazione attraverso un referaggio anonimo (blind peer review) al fine di garantire una sempre maggiore scientificità dei saggi pubblicati. I referee saranno studiosi di chiara fama. Annualmente la rivista invierà alla comunità scientifica una call for papers recante le indicazioni sul tema oggetto del numero monografico e le norme redazionali per la stesura dei contributi da proporre per la pubblicazione.
ISSN carta: 1128546X
ISSN digitale: 18277934
In questo numero
PRESENTAZIONE
STUDI E RICERCHE
L'attuazione del principio di sussidiarietà nei servizi alla persona: problemi e prospettive
di Ivo Colozzi
pagine: 15
€ 6,00
Abstract ∨
The essay starts from the thesis that the introduction of the subsidiarity principle in Italian Constitution took place in a form such that it can be interpreted on a theoretical level and implemented in practice in very different ways. Then shows how it prevailed in practice the outsourcing model and how this has created a number of problems which are causing negative reactions from relevant organizations of the same Third Sector. It proposes finally to experience a new kind of subsidiarity based on the principles of distinctiveness and appropriateness.


La Babele dei "nuovi welfare". È ancora possibile comprenderci?
di Fabio Folgheraiter
pagine: 11
€ 6,00
Abstract ∨
The paper analyses an apparent feature of the current Italian welfare system, that is, so to speak, the verbiage in the identification of remedies to and 'ways out' of its persisting crisis. Countless labels and bizarre phrasings offer just as many allegedly new approaches or models claiming to be able to magically overturn the feeling of frustration and stagnation that most of health and social organisations are experiencing in Italy and elsewhere. The Author emphasises how, even in scientific debate, the unwitting mix of incompatible paradigms magnifies the feeling of confusion that may become, for many aspects, tragicomic. The very terms and concepts emerging from really innovative epistemic studies (reciprocity, empowerment, care, subsidiarity etc.) are often inconsistently used within the framework of the old top down paradigm responsible for the current crisis. As many fundamental key words are losing meaning, policy makers and fieldworkes are losing clarity of thought and capability to impact rationally on the ongoing degenerative processes.
Cittadinanza, welfare e democrazia: problemi e prospettive
di Nicola Pasini
pagine: 24
€ 6,00
Abstract ∨
The welfare systems in the liberal-democratic countries are undergoing structural changes. Often their evolution also concerns paradigm shifts. In this essay we try to understand what and how the new challenges to citizenship (social) emerge, mainly in an economic, social, political and cultural context (mainly due to the globalization process) completely different from the past. This requires a review of the allocative and distributive means of scarce resources. At the same time, the intense debate among intellectuals, scholars, policy makers, social workers raises again the questionabout principles, values and policiesat the basis of the welfare state. After delineating the evolution of the welfare state from the origin to present through the shift from the basic needs to the citizenship rights, the paper – from the point of view of political and social theory – analyzes the crisis of the welfare and reform proposals in place: the focus is the concept of citizenship whose definition necessarily reflects the deep change of our western societies. Democratic institutions, from the supranational to the local level, are faced with a change in the ways in which we define social policies, because the satisfaction of various social rights requires a redefinition of citizenship in heterogeneous and selective sense; such requests from universal are becomingnow more detailed: the homogeneous and standardized responses give way to demands of differentiated, pluralistic and multicultural public goods.
IDEE PER OPERARE
Le strade del welfare. Sintesi delle principali proposte di riforma
di Matteo Moscatelli, Nicoletta Pavesi, Michele Marzulli
pagine: 24
€ 6,00